Your browser is obsolete!
The page may not load correctly.
Dr.Web for Android Parental Control
Protects applications from unauthorised access and the anti-virus settings from being tampered with by outsiders or children.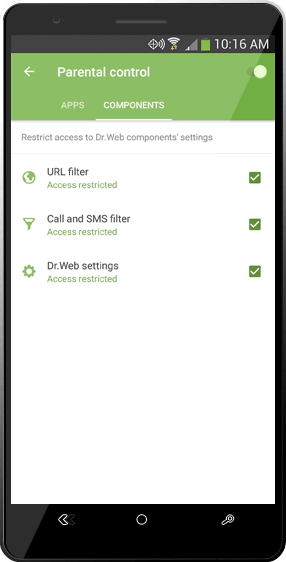 When you enable Dr.Web Parental Control, your children (or anyone else who has access to your smartphone) will not be able to visit undesirable webpages. Access to such content will be blocked according to a blacklist or thematic groups of sites (gambling, social media, etc.). In addition, no one except you will be able to change the URL filter's whitelists and blacklists.
Dr.Web won't allow your children to add unwanted numbers to the Call and SMS Filter. Thus, your children will be protected from calls from unknown numbers—only people you know will be able to reach them.
Dr.Web will prevent your children from accessing applications you've determined they don't need and won't let them launch those applications.
Dr.Web won't allow your children to change the restrictive settings you establish.
Dr.Web Parental Control settings are protected with an account password. The device administrator (i.e., you) sets the password.
Don't have a Dr.Web license yet?
The following licenses include Android protection.

© Doctor Web
2003 — 2020
Doctor Web is the Russian developer of Dr.Web anti-virus software. Dr.Web anti-virus software has been developed since 1992.

2-12А, 3rd street Yamskogo polya, Moscow, Russia, 125124
Other Dr.Web resources