The page may not load correctly.
Dr.Web for Android's Call and SMS Filter
Bars unwanted calls, short messages, and emails.
The Call and SMS Filter can also be used on devices that have 2 SIM cards. The Call and SMS Filter cannot be used on tablet PCs without a SIM card.
This feature is not available in the Dr.Web for Android Light license.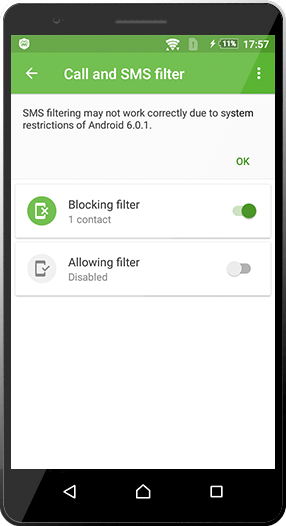 Built-in filtering profiles:
Allow all incoming calls and SMS.
Block all.
Phone book — in this mode, calls and SMS are allowed only from numbers in the device's phone book.
Blacklist — phone calls and (or) SMS from the numbers on this list are blocked.
Create an unlimited number of user filtering profiles. Create separate lists of numbers and program actions (allow/block).
Access to the Call and SMS Filter settings can be password-protected. The device administrator sets the password when configuring the anti-virus account.
Don't have a Dr.Web license yet?
The following licenses include Android protection.