New technologies for protecting Windows workstations
New!

SpIDer ML Anti-Script — uses machine learning to detect malicious JavaScript code
Thanks to new technology based on machine learning, Dr.Web SpIDer Guard can detect even more of the latest unknown malware programs in scripting language files, without having to wait for virus databases to be updated.
Detection rules, created by a machine-learning system based on the knowledge of what constitutes malicious code, allow Dr.Web SpIDer Guard to "predict" a program's behaviour before its malicious content is launched and neutralise it.
The most complex mathematical algorithms of the machine-learning system allow new rules for detecting malicious programs to be created automatically — without the involvement of virus analysts and almost instantly.
Dr.Web incorporates many technologies that protect against the latest malicious programs without involving the use of virus databases. New technologies based on machine learning have taken the detection quality of such programs to an even higher level!
Thanks to this new technology, the Dr.Web virus database stores the minimum amount of information, and the detection quality only improves with the record-low number of false positives.
New!

Protection technologies for a secure system load
Traditionally, the Dr.Web anti-virus detects malware everywhere, no matter where it tries to hide itself from the protection system.
Dr.Web was the first anti-virus to detect malware hidden in the BIOS.
The discovery of vulnerabilities in UEFI, which replaced the BIOS, has already drawn the attention of hackers to this system.
It was believed that the malicious code introduced in UEFI could not be detected with traditional anti-virus methods.
The new version resolves this problem — Dr.Web now detects malicious code in UEFI firmware from the moment of installation.
Even more reliable!

Protection from the latest unknown threats
The Preventive Protection component has been given updated algorithms for analysing running processes, which has improved the quality of its malware analyses.
Enhanced OS protection, making malware infections even less likely.
Preventive Protection routines have been revamped for improved threat detection and neutralisation.
Even fewer false positives thanks to newly revamped Preventive Protection mechanisms.
Improved!

Active infections cured

An important feature of the Dr.Web Anti-virus that always distinguishes it from other anti-viruses is its exceptional resistance and its ability to even be installed in an infected system. Dr.Web is traditionally used to cure infections missed by other security systems.

The new version of Dr.Web Enterprise Security Suite 11 incorporates enhanced technologies to cure active infections.

Dr.Web Enterprise Security Suite 11 can be deployed in any network, including in cases when the malware involved is actively resisting this process.
Dr.Web security square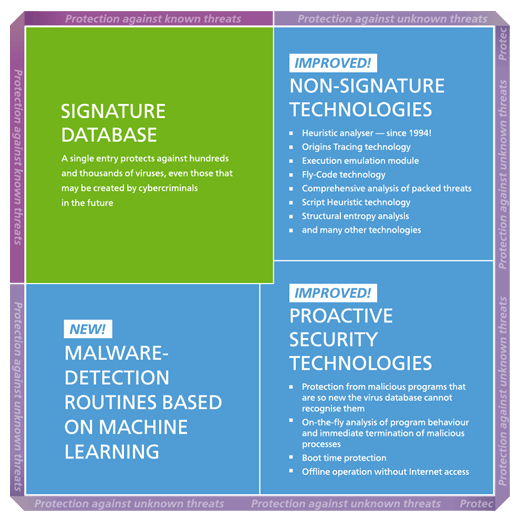 The combination of a traditional signature virus database, non-signature technologies, and preventive protection technologies enables Dr.Web to combat any unknown malicious threats — WannaCry included!
More about Dr.Web technologies