Already purchased Dr.Web?
Dr.Web for MIMEsweeper is installed on machines that run the MIMEsweeper content filter. It operates according to the first-level filtering scenario recommended by ClearSwift.
The product connects to MIMEsweeper as an anti-virus and anti-spam scanning policy for email and filters out viruses, spam and other unwanted messages. Once a threat is detected, Dr.Web for MIMEsweeper classifies unwanted email in accordance with policies specified by ClearSwift MIMEsweeper and neutralises detected malicious objects.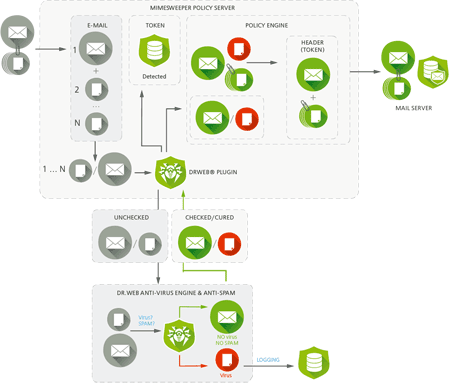 Features
Checks e-mails including archived attachments before they are processed by a mail server
Cures infected objects
Isolates infected and suspicious files in the quarantine
Filters spam; filters messages according to black and white lists
Operation logging
Automatic updates