My Dr.Web Portal
Your Personal service assistant and guide
Personal access to technical support
and your request history

License Manager

Restore blocked key file

Renewal Wizard
Discounts — 40% or more

License Expansion Wizard
Free for up to 5 PCs!

Messages

Certificates

How do I log on to My Dr.Web Portal?
And also:
News
Generate license certificate—acquire documentary evidence that your license has been acquired by legal means
Generate individual distribution of Dr.Web CureIt!
Scan suspicious files and send them to the Dr.Web anti-virus lab
Malware description search form
Links to Doctor Web's pages on social networking sites
Support and history of your requests
The Form to contact with customer support can be found in the Support tab. To go to the archive of your requests, click on Request history.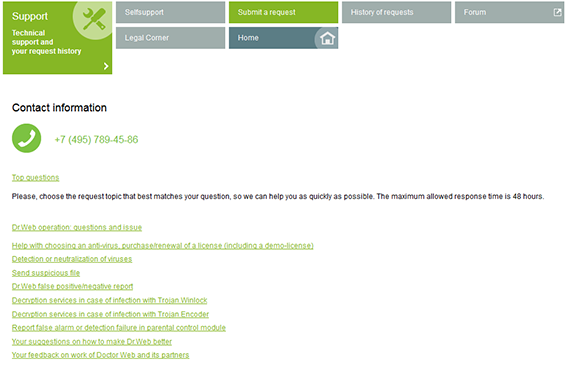 Licenses
Information about all your licenses is stored in this section. You can check the licence's status and parameters and contacts of its supplier at any time.
Links to renew and expand licenses are located next to the serial numbers. Remember, it does not matter how much time has passed since your Dr.Web license expired—you can always extend it at a discount—from 40% off the price to renew for 1 year.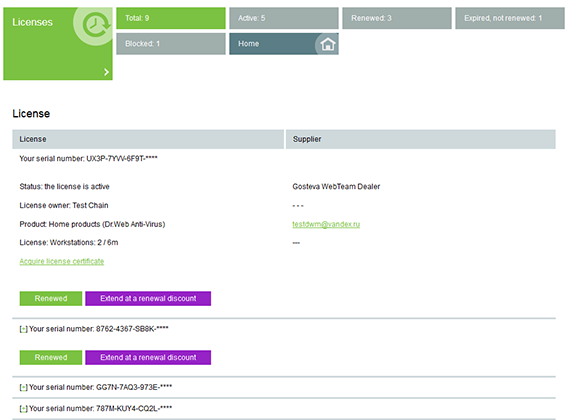 Restore blocked key file
If your key is blocked due to piracy (alas, this is often the case), you can restore your license free of charge, but only once. To do this, go to the Blocked licenses section and next to the blocked license click 'Replace serial number'. A new Dr.Web key file will be sent to the e-mail address you provided during registration of your license.
Read more about the service for replacement of blocked key files
Terms of blocking pirated licenses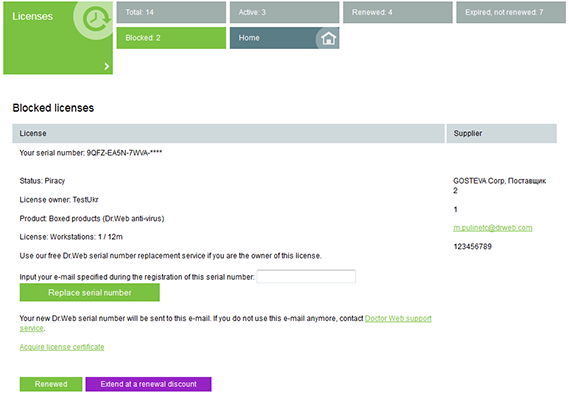 Buy/Renew/Expand
Handy purchase, renewal and expansion assistants will help you choose a desired Dr.Web license right in My Dr.Web Portal.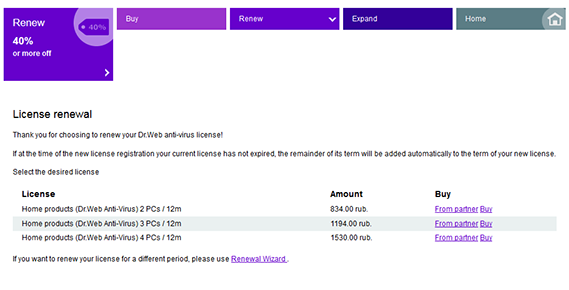 More:
Expansion wizard
If you already use Dr.Web and have a newly purchased desktop or laptop that requires Dr.Web protection—expand the license for up to 5 PCs, free of charge, provided that your license expires in 3 months or less. In other cases, you can expand the license at the renewal discount. Just go to My Dr.Web Portal.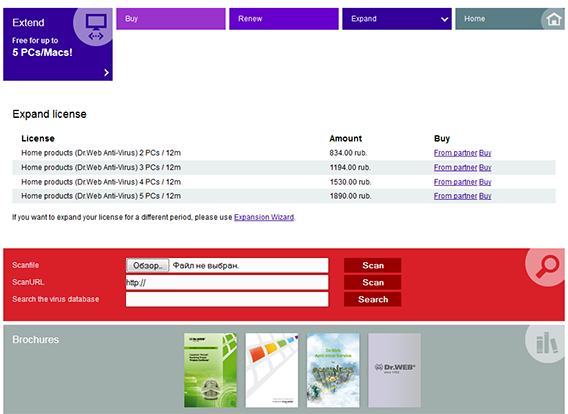 [TAB_QRUTOY]
Messages
Notification about registration of your Dr.Web license will be the first message that you will see in this section. After that, reminders from Doctor Web about imminent expiry of a license and renewal options will be arriving here. These messages are sent to the email address you provided during registration of your license. Messages associated with the license are stored in this section while it is valid and another 60 days after its expiry.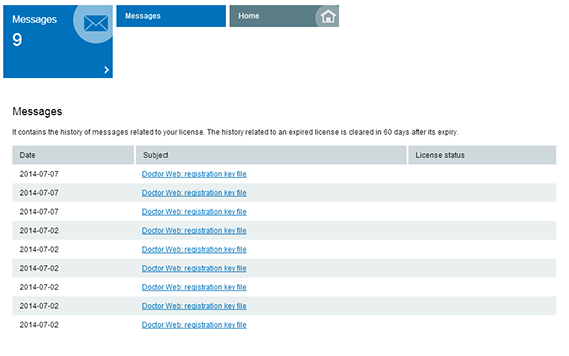 Certificates
Doctor Web pays great attention to educating users in the basics of computer literacy. Here you will find a list of available exams and a link to the exam registration page. If you pass the exam, you will be able to download your Dr.Web certificate in this section.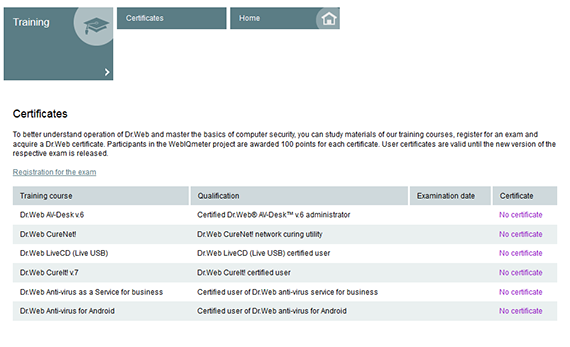 How do I log on to My Dr.Web Portal?
First, you need to start using Dr.Web and install the anti-virus onto your PC, Mac or handheld.
| | |
| --- | --- |
| The My Dr.Web menu item is available in the application menu. To access the menu, right-click on the Dr.Web icon in the system tray. | |
You can also enter via this service.