The page may not load correctly.
Anti-virus network
Manage the security of all the computers in your household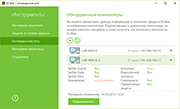 Remotely administer and configure the Dr.Web software installed on local network computers.
Remote control does not require the Dr.Web Control Center.
A remote connection can be established from any computer to any other computer.
Administration capabilities include: retrieving statistics and logs from a remote machine, viewing and changing module settings, and starting and shutting down anti-virus components. You can also register a serial number and replace a key file on a remote computer.
To use this feature, a remote connection must be allowed on the target machine.