Anti-virus, anti-spam, and anti-phishing email filtering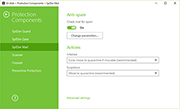 Virus-free email
Scans any traffic transmitted on all ports via Dr.Web-supported protocols, including secure connections (if the user has enabled the option to scan SSL traffic).
SpIDer Mail monitor scans mail before emails are received by a mail client and prevents malware that is mainly distributed by spam from exploiting software vulnerabilities.
Real-time anti-virus and anti-spam scanning of emails over the SMTP/POP3/NNTP/IMAP4 protocols.
Scans encrypted SSL connections (SMTPS/POP3S/IMAP4S).
Scanning does not interrupt the operation of mail clients and does not cause delivery delays.
Individual processing rules are applied for each type of malicious object — viruses, riskware, adware, hack tools, paid dialers, and jokers.
Analyses the contents and send time of messages, which allows the characteristics of malicious activities to be detected and prevents mail worms from sending out mass mailings.
No spam and no phishing emails
The anti-spam does not require configuration and starts working as soon as the first message is received.
Different filtering technologies ensure the high probability of detecting spam, phishing, pharming, scamming, and bounce messages.
Anti-botnet – you won't be disconnected from the Internet for sending out spam.
Messages that have been filtered out are never deleted. Instead, they are placed in a separate folder where you can always verify that no false detection has occurred.
The standalone anti-spam analyser module doesn't require connection to an external server or access to a database, which results in significantly less traffic.