The page may not load correctly.
Dr.Web Enterprise Security Suite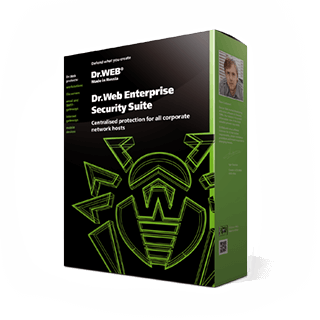 High performance and stability
High-speed scanning combined with low consumption of system resources
Reliable protection from existing threats
Unsurpassed curing quality
High level of self-protection
We will help you choose the Dr.Web solution you need
Dr.Web Server Security Suite (for Novell NetWare) scans file storages run under NetWare for viruses.
The program is launched on the protected server as a loadable module (NLM module) and is controlled from the server console or from a remote console launched on a workstation.
Advantages
Widest range of supported versions of Novell Netware — from 3.12 up to 6.5
Supports NetWare namespace
Does not require mandatory support for all the workstations and servers of any one network protocol
High-speed scanning of huge amounts of data with minimum consumption of system resources—both in real time and on demand; the scanning speed and productivity are only limited by the hardware capabilities of the protected server
Ability to manage CPU resource consumption by adjusting the priority of the scanning process
Simple installation
Centralised administration via the Web-administrator of the Dr.Web Enterprise Security Suite Control Center
Flexible user-friendly configuration — select objects for scanning and the actions to be performed with detected viruses or suspicious files
User control panel
Key features
On-demand and scheduled scanning of server volumes
On-the-fly scanning of all files transferred via the server
Multi-threaded scanning
Automatic server disconnection for workstations that become a threat source
On-demand scans
Scheduled scans
Scan files by format or according to a specified list of extensions; scan exceptions for individual directories or volumes; scan all objects
Heuristic virus scan
Scan packed, archived and mail files
Scan logging; adjustable logging verbosity
Notifications when infected objects are detected
Cure, remove or move infected objects to the quarantine
Anti-virus administration, protection monitoring, configuration optimisation, virus-event notification system configuration via the server console or a remote console
Instant email notifications for the administrator, other users and their groups
Customisable notifications
Scanning statistics: information is displayed about process operational time, the number of files scanned, and the viruses detected
Anti-virus actions log
Automatic virus database updating
Product system requirements can be found in the documentation.
© Doctor Web
2003 — 2023
Doctor Web is a cybersecurity company focused on threat detection, prevention and response technologies